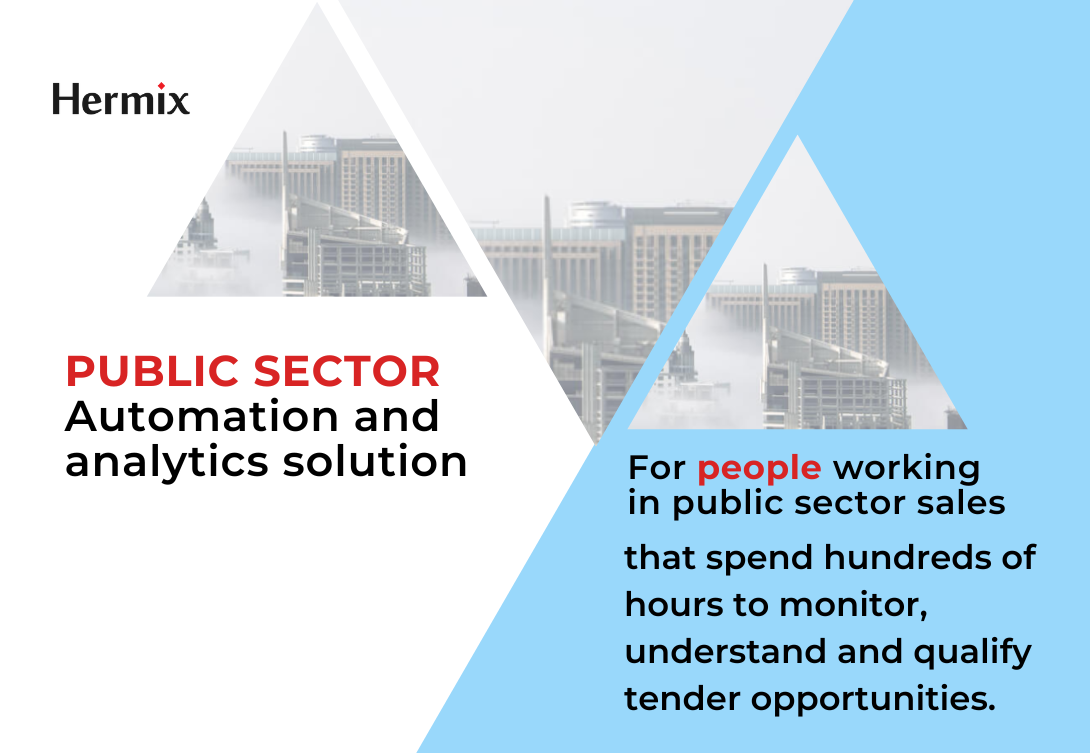 Every day, managers, bid, presales, and account managers that work in public sector sales spend hours monitoring and understanding new project opportunities and tenders.

The main tools currently used for public procurement are:
Monitoring public procurement platforms such as TED, where we search manually for tenders, we set up and monitor notifications, and we download and read documents.
Browsing through the websites and documents of public authorities.
Google search.
Managing local documents and spreadsheets – where we organize and manage manually this vast amount of information.
After that, when we find an opportunity of interest, we repeat this search and analysis process, in order to understand each opportunity:
To qualify it, by matching it to their own competencies and strategy.
Understand the competition and the customer.
Take a GO or NO-GO decision.
Decide on the commercial and technical strategies, such as solutions to be proposed, pricing, partners, and suppliers.
Also, every year or quarter, we spend weeks consolidating our medium and long-term commercial strategy and action plans, by building and reviewing pipelines, analyzing existing and potential customers, their budgets, trends, past and future project opportunities, technology, work programs. Strategic planning on the B2G – business-to-government market is mostly done manually and relies on partial, incomplete, and inaccurate data.
Hundreds of hours are thus wasted every month, and hundreds of days are wasted every year, extracting and analyzing data in Excel files, crunching numbers, sorting, filtering, and prioritizing information. It is tedious work. It is manual, not reusable, not shareable. Significant investments are needed to enter a new market or a new client. It might take years of effort to understand a new market, such as authorities in a new country. It takes weeks or months to understand a new customer or project.
Compared to the modern data analytics and automation tools that are being used in other markets such as retail or B2B, this looks like the stone age of information management.
The cost of client acquisition is huge. Market analysis is time-consuming and inefficient. Proposal success rates are low, compared to the significant investment needed to write proposals in the public sector. The technical tenders sometimes do not match client needs, thus creating quality problems.
All these are significant barriers to ensuring sustainable or exponential growth.
Hermix is an intelligent solution to these obvious and ubiquitous problems.
We provide automation and data analytics for public sector sales, for B2G business-to-government:
Opportunity monitoring, email notifications, bookmarks, smart market watch.
Opportunity qualification, with actionable data and infographics ref. authorities, competition, gaps.
Market analysis, segmentation, and forecasting. Understanding the market: where is the money, who buys & sells, what, when, where, how, needs, future opportunities and renewals, competition, adversities, partnership affinities & appetite.
Big data analytics are already used heavily in the retail and consumer business. With Hermix, modern analytics will also transform the public sector.