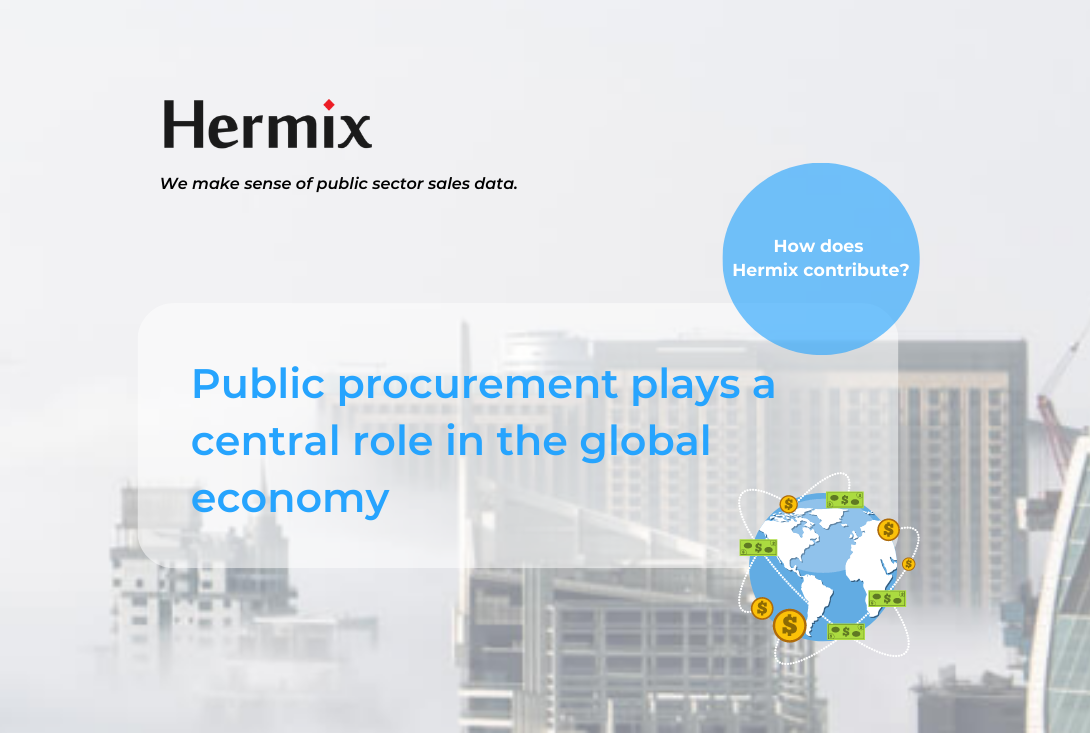 How does Hermix contribute?
Public sector procurement is a massive, heavy, complex, and difficult-to-access sector.
The public sector accounts for 54% of the global GDP (according to "The B2G Manifesto"). Public procurement amounted to 14%, totaling €2 trillion in Europe (European Commission`s report "SME Needs analysis in Public Procurement"), and €13 trillion worldwide.
According to the World Bank study "A Global Procurement Partnership for Sustainable Development: An International Stocktaking of Developments in Public Procurement", 25% of this amount is lost due to inefficiencies. The World Bank is actively involved in improving public governance related to procurement. Its Procurement Department assists partner nations in ensuring the effective use of public resources in Bank-financed programs and via procurement ecosystem changes.
Through wise public buying, a trillion dollars can potentially be saved every year, worldwide – budgets that can be used to support resilient, inclusive, and green economies.
What is Public sector procurement?
Public procurement is the procedure by which governments acquire products, services, and works from the private sector. It is a vital part of managing public finances and, consequently, has the potential to be a driving force behind the global advancement of green, resilient, and inclusive development.
There is a significant need from both authorities and contractors to understand their ecosystem through advanced market intelligence and analytics and control the procurement process.
What is the role of public procurement in the economy?
The use of public procurement as a strategic instrument contributes to financial savings and long-term results, such as promoting local markets and jobs. Considering the region's security problems and developing mitigation solutions throughout the procurement planning stage is critical.
What digital tools are used in Public procurement?
The use of electronic and digital platforms, such as e-government platforms, made significant improvements in public tendering, through implementing new technologies and delivering the best value for money.
Data visualization, analytics, and mapping tools such as Hermix promote transparency and increase competition and overall public spending efficiency. There is endless potential for improving the processes for monitoring and analyzing the market, creating and submitting bids, workflow automation, contract management, and data presentation.
While B2C/B2B/retail are automated and rely heavily on big-data analysis, public tendering is still in its infancy. Sales are primarily opportunistic, lack automation, are based on personal skills, non-repeatable, and non-scalable.
Hermix is the first market analytics platform for public sector sales and bid managers.
It helps companies understand & win public contracts, with tender monitoring and market intelligence. It aims to demystify, transform, and democratize the B2G – Business-to-Government market. Hermix helps users understand, predict, and manage public funding.
How can Hermix contribute?
Hermix helps companies understand & win public contracts, with tender monitoring and market intelligence.
It provides deep market analysis and sales support for B2G – business-to-government.
Who are we?
We are a team of experts with significant experience in IT, AI/ML, big data, deep tech, and public procurement. We are passionate. We strive to make a difference.
Read more about us and Our story.
We make sense of public sector sales data.