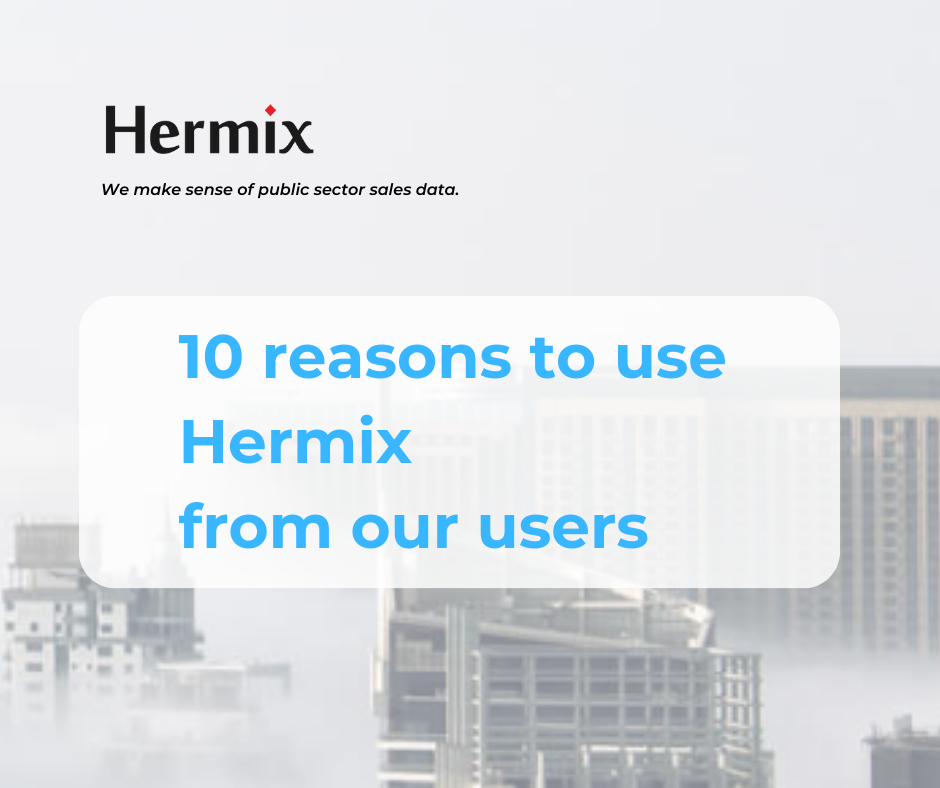 We are glad to see so many people appreciate our platform. We thank you for every kind word and suggestion.
Here are 10 reasons to use our platform, from our users:
Hermix provides unparalleled public sector market analytics and intelligence
1. Impressive platform
I had an incredible experience using Hermix, a superior platform dedicated to market research for European bids. The platform stands out in the realm of data analytics, delivering comprehensive and insightful information and reports about historical, current, and prospective bids. The level of detail in the analysis it provides is second to none, making it an invaluable tool for anyone needing in-depth insights. I'm particularly impressed by how it handles large data sets and transforms them into readable and easily understandable formats. Not to mention, the future forecast capabilities of Hermix provide an additional edge by predicting trends and potential opportunities. All in all, Hermix is an amazing tool that takes market research to the next level, and I would highly recommend it to anyone in the field.
2. Very useful tool for market analysis
Hermix is a top procurement portal for public tendering but with plenty of new opportunities and tools, such as market intelligence analytics and notifications. Easy to use and intuitive, with many filters and notifications. You don't need to work hard for the data – it brings almost everything to your screen.
After using Hermix as well as other platforms extensively, I can confidently say that Hermix outshines any other tool in terms of providing a more interesting and insightful analysis.
One of the most striking features of Hermix is its ability to conduct a robust and in-depth comparison between contractors. The level of detail and precision in its analysis is simply unmatched.
3. My one-stop-shop for public tenders
I love how Hermix delivers filtered information to my inbox every day, how I can prioritize opportunities based on market intelligence, and how I can keep track of my tender qualification status, all in one place.
4. An unique tool for the international organizations' market
This is really the first time that I see such an application, with all the information inside – a very powerful tool to do business intelligence and data analysis. Strong points: multi-country, all data in the same place.
Hermix provides daily critical information regarding public procurement
5. A great guide for unlocking a complex data landscape.
Our business-critical need is to monitor the B2G market for upcoming tenders. To keep ourselves informed, we have developed an internal tool that requires significant resources to curate the vast amount of data manually. We dropped that tool because Hermix provides a comprehensive solution for the B2G market, including tender monitoring and curated data about the market. With Hermix, we have access to valuable information such as the client's available budget, previous suppliers who won contracts, and the contract history. This enables us to form partnerships on time to increase our chances of success in winning tenders.
The ease with which Hermix allows me to access procurement data, from high-level aggregated analysis to fine-grained details of single contracts, surprised me. And while it provides access to a complex data landscape, the UI really helps the user know what to look for and showcases the expertise and experience that have gone into creating it. Anyone experienced with public procurement data will appreciate how many steps in the workflow Hermix seamlessly handles for you.
6. A platform to govern all
Hermix is the only companion I trust when I want to access raw data in a structured way. If you need to make complex decisions quickly look no further. Bidding in the B2G sector is a lot easier when you understand the trends and what the competition is doing.
7. Vital tool for any company selling to governments
I fulfill the need for accurate information. It saves a lot of time to have everything in the same application – organized, compared, and up to date. It allows you to find leads, compare the competition, and see the history of both main competitors and the contracting authority.
8. Smart and reliable tool to simplify daily tasks
Saves hours of work on opportunity research and analysis. Monitoring the competition is much easier. An enormous advantage of having a dedicated team behind the product, at a cost that is a fraction of an in-house solution.
Hermix is user-friendly and easy to use
9. Easy to use and navigate, effective presentation of information, great support.
Hermix makes it very easy to retrieve critical information for Competitive Intelligence and filter/navigate. Very good user experience. Notifications are easy to configure and provide direct access to Hermix for further analysis. Timely support in case of need.
10. Give it a try, it will surprise you
This tool is very easy to use and offers analytic functions that help me get more details about what I need to know to be more competitive. A wide range of features is available. The product conception takes into consideration the business usage of such a solution.
Sign-up and share your experience!