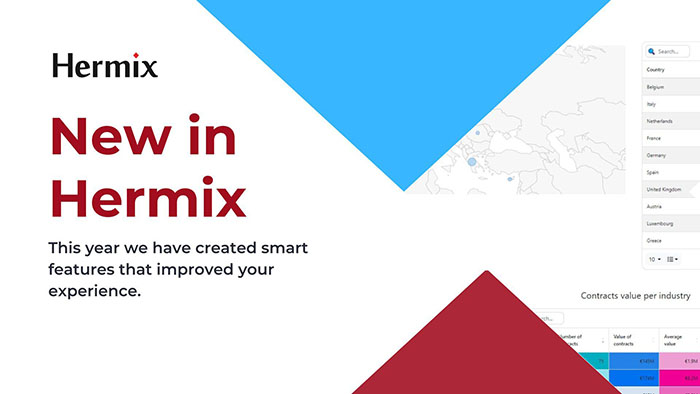 We are excited to announce that we launched a set of great new Hermix features. A few things will improve your experience with our app and increase your success in public sector sales.
Contractor comparison
This will help you position on your market, understand the competition, and find partners:
• Benchmark your company against your competition.
• See where your competition is stronger.
• Find compatible and complementary partners.
Flag opportunities
You can mark your preferred opportunities in order of importance. This feature will help you have an organized view of your opportunities based on your needs and interests.
Email this opportunity to your colleagues and partners
You can now share the most interesting opportunities instantly, with one click, by email, with your colleagues and partners.
We are also proud of the other smart features we developed this year, that have improved Hermix
Opportunity qualification: tender context, preferred suppliers.
Deep Contractor / Authority profile.
Partnership Affinity mapping.
Contract Renewals.
·      Bookmarks, saved reports, personalized filters.
·      Export to MS Excel/CSV.
·      Partnership affinity mapping and appetite
analysis.
·      Renewals.
·      Full-text and full-topic search.
Hermix provides public sector market intelligence and analytics.
We prioritize your needs. We want to hear from you.